Ocean Freight Shipping | Overseas Moving
Home> Ocean Service
If ocean freight service is a significant need for your business, consider speaking with an overseas shipping expert at ETC International Freight Systems. ETC is a Federal Maritime Commission (FMC) licensed, as a non vessel operator common carrier (NVOCC) bonded, an ocean freight service contract holder & ocean consolidator providing services to and from world destinations. ETC and its freight network accesses yearly volume ocean freight contracts from a variety of steamship lines. Through us, our customers obtain wholesale pricing with savings passed down to them.

Nationwide: (866) 793-3418
(866) 793-3418

ETC's Terms and Conditions of Contract are accessible on Word document and available upon your request.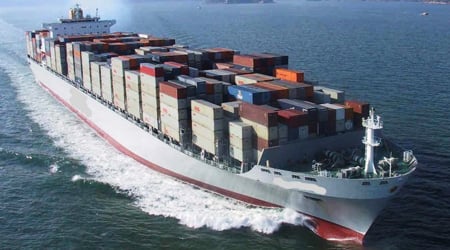 Useful Ocean Freight Information
Container Max Weights:
20' - 34,000 lbs (if weight exceeds 34,000 a tri-axle chassis must be used)
40' – 44,000 lbs
Standard container internal dimensions
20'SD: 19' 6" L x 7' 8" W x 7' 9: H (capacity: 1250 CFT.)
40'SD: 39' 5" L x 7' 8" W x 7' 9: H (capacity: 2434 CFT.)
40'HQ: 39' 5" L x 7' 8" W x 8'10" H (Capacity: 2495 CFT.)
Less Than A Container Load (Consolidated ocean cargo)
Ocean Freight minimum - 1 Cubic Meter = 48"x 42"x30"
Standard pallet Sizes = 48"x 40" or 48"x42"
ETC Ocean Freight Service
ETC's ocean freight shipping service is a non-vessel operator, common carrier bonded. As an ocean service contract holder and consolidator we are certified to provide shipping services to and from various destinations worldwide. Working as an ocean freight forwarding company, we offer you our services from inception to end so that your relocation overseas is completed with success.
Helping You Relocate Your Home Or Office
Our international shipping company transports goods, merchandise, and personal belonging with door-to-door service. We confidently offer home and office relocation services and automobile shipping to a number of different countries overseas. We arrange the movement of your items and ensure the process is completed, guaranteed. Our overseas shipping services allow you a worry-free way to get your items to their destination.
ETC International Freight System is a Federal Maritime Commission license. The terms and conditions of our contract are available upon your request.
Ocean Freight Services Nationwide Phone: (866) 793-3418