Cargo Insurance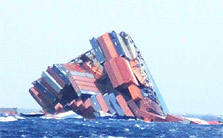 Any customer is entitled to purchase cargo insurance coverage through ETC Intl. Freight System. The types of insurances available to commercial and private parties are:
All Risk (including War Risk) via Air, Ocean and Truck
FPA (Total Loss/Catastrophic) Coverage
Call Dimitri (310) 632-2555 Ext 104 to qualify the type of insurance & premium your shipment needs.
Please note that upon choosing your cargo insurance, you hereby accept and will adhere to the underwriter's terms and conditions.