Joseph Bonney, Senior Editor | Mar 07, 2013 1:22PM EST
LONG BEACH, Calif. — Container lines owned half of U.S. intermodal shipping chassis in 2009, but their share fell to 32 percent last year and will drop to 20 percent by the end of 2013, consultant Steve Rubin told the JOC's 13th annual TPM Conference.
Carriers' rapid exit from the market is spawning several new models for providing intermodal chassis in the U.S., the only major nation where ocean carriers have traditionally provided the equipment for customers.
Carrier Chassis Evolution
Thirteen of the 20 largest container lines in the U.S. market have sold all or some of their carrier chassis fleets, and lessors have become the dominant suppliers, said Rubin, principal at InterPro Advisory LLC and co-author of an authoritative Transportation Research Board report on the carrier chassis market.
Until the dust settles, the carrier chassis supply environment will remain confused, especially for motor carriers that are being called upon to rent or lease carrier chassis that ocean carriers traditionally supplied for free.
Complete coverage of trans-Pacific maritime trade
Consolidated Chassis Management, founded in 2004 by ship lines in the Ocean Carrier Equipment Management Association, won Federal Maritime Commission approval last year to allow truckers, shippers and others to provide chassis for CCM's six regional co-op pools.
Another major development was the formation last year of North American Chassis Pool Cooperative by 11 motor carriers in the American Trucking Associations. NACPC is acquiring ocean carriers' chassis and contributing them back into CCM's "gray chassis" pools.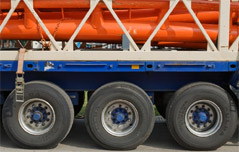 The trucker co-op acquired 1,300 chassis previously owned by Cosco and put them into CCM's Memphis-Nashville pool. Dave Manning, president of Nashville-based TCW and Tennessee Express and chairman of NACPC, said motor carriers want a voice in carrier chassis supply.
A top goal is improving carrier chassis quality, long a sore spot with truckers. NACPC hopes to develop to the point at which it can supply carrier chassis with radial tires, automatic tire inflation, LED lights and self-adjusting brakes.
Those steps will have to wait until NACPC develops, Manning told a TPM panel audience. "Once we achieve density in a market, that's when we will start the modernization part, with the radial tires and all the rest," he said.
The next big thing in intermodal chassis may be a proposed "gray fleet" for carrier chassis operating in and around Los Angeles and Long Beach, the nation's two busiest container ports.
Chris Lytle, executive director of the Port of Long Beach, told the TPM Conference that the ports hope to issue a request for proposals and get responses within six months. He said the ports hope to apply what's worked best elsewhere.
About 110,000 carrier chassis operate in the Los Angeles basin. Lytle said, allowing them to be interchanged freely would:
eliminate thousands of unproductive trips a day by truckers
put terminals' chassis storage yard to better use, and
improve equipment utilization
About 10 percent of terminals' acreage is devoted to carrier chassis storage, Lytle said. "And these are not carrier chassis that rotate all the time. There are carrier chassis out there that haven't turned a wheel in months, or seasons, or in some cases, years," he said.
No one is happy with the status quo, Lytle said. "We did some basic polling, and it was interesting to find that there's not a single stakeholder … that says, 'We've thought about this and let's leave it the status quo. Everybody wants to get it changed, and that leaves us in a pretty good position to effect change."
The Port of Virginia's pioneering Hampton Roads Chassis Pool, created in 2004 to centralize management of the port's chassis fleet, has evolved to allow ocean carriers to transfer ownership of their equipment to others, and to allow direct billing of truckers who can pre-approve their invoices online.
As carrier chassis supply models evolve, cargo interests are watching closely. Marc Winocur, senior manager of international transportation at Target Corp., said carrier chassis costs have always been embedded in carrier rates, although not as a line item.
He said that as carriers divest themselves of their chassis, he wants "to make sure that we're clear" on how that transfer of expense will be reflected in rates.
To get in on the conversation, send us your comments online. We welcome your insights on the state of the carrier chassis evolution:
Rail & Intermodal›Intermodal Shipping