Ocean Import into the LA/Long Beach Ports
Now there are talks for port funding with Congressional appropriators. That is a relief!
Employers note that some European terminals for the past 20 years have been using unmanned cargo-handling equipment. Also, they say those terminals now have fewer safety issues because
there are fewer longshoremen on the docks to get in the way of cargo-handling equipment and trucks.  Now that is real..
According to JOC source;  "We write to request that when you enter into negotiations with your Senate counterparts to complete annual appropriations legislation (for fiscal 2015, beginning Oct. 1, 2014) you hold the line at a final FY15 harbor maintenance funding level that meets the WRRDA 2014 target for that year, which has strong support in the House," the representatives wrote key appropriators.
The letter was sent on Sunday to House Appropriations Committee Chairman Harold Rogers, R-Ky.; and the House committee ranking member, Nita Lowey, D-N.Y.; and House Chairman of the Subcommittee on Energy and Water Mike Simpson, R-Id, and the committee's ranking member, Marcy Kaptur, D-Ohio.
Major water resources legislation, signed by President Barack Obama into law on June 10, set a schedule where U.S. ports would receive more HMT funding each year and receive all annually
collected taxes by fiscal 2020. But it's up to congressional appropriators to make sure that the plan set by Water Resources Reform Development Act is implemented. End of quote.
Opinion:
WHERE Is THE BEEF? Clara Peller said it best…
This ILWU is scandalous, it should be investigated & we should look into the European example (see above). Importers, forwarders, customhouse brokers, truckers & the consumers are being short changed every day. Moneys we pay for the ocean containers stock with off the beaten pass inspections, storage exacerbated with chassis shortage at the LA/Long Beach ports or containers re-routed will cost this winter great grievances with the ultimate consumers. Frustration is running high, solutions are being discussed, and we are waiting for their deployment.
Reid.
Air Consolidation services
We are IATA licensed, having rate agreements with all major airlines in North America & coupled with similar agreements signed by our overseas associates, enhancing our competitive edge. Whether choosing our most economical service via our scheduled weekly consolidations, direct daily service for your most urgent orders, or, a door to door service exclusively handled through our network of established freight agencies, ETC Intl Freight System is ready to hear from you (Sales@etcinternational.com)
Enhance partnership with our customers with tracking of your shipments with the airlines around the world & proof of delivery (POD) from our overseas agents. ETC Intl. Freight System's consolidated rates are designed especially to keep prices aggressively low.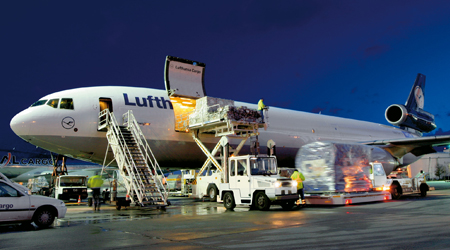 Useful Information
Air Cargo Height Restrictions
Passenger airplane Maximum height: 64 inches
Cargo Airplane Maximum height: 96 inches
To calculate air freight volume L x W x H in inches divided by 366 = weight in pounds
To calculate actual weight in pounds to kilograms divided pounds by 2.2046
 Air courier department 
In a hurry to air freight your few boxes all the way to the door customs cleared (except tax
or duty if applicable) for your import or export shipments. Please contact ETC International Freight System via phone or email at Sales@etcinternational.com with the origin / destination addresses, exact description of the content, value dimensions (length, width & height per box) & weight.
In the world of mass production, poor expertise & lack of personal engagement adds unexpected costs & aggravation.  ETC Intl. Freight System, has no aspiration to be the K-Mart of the freight forwarding business. 
We are independently owned & although part of an industry highly regulated, we help you close the gap to manage your shipments from inception to end. Our employees' knowledge & dedication are of paramount importance in the services that we render, which bear our name. Customer satisfaction is the guiding principle for all our activities.
To receive an immediate rate confirmation or click the button below: