Intermodal Shipping: Shippers loading & moving their shipments into container loads from inland America to West Coast ports booked to overseas destinations
ILWU: International Longshore and Warehouse Union
Content sourced by JOC
Intermodal shippers face rocky peak season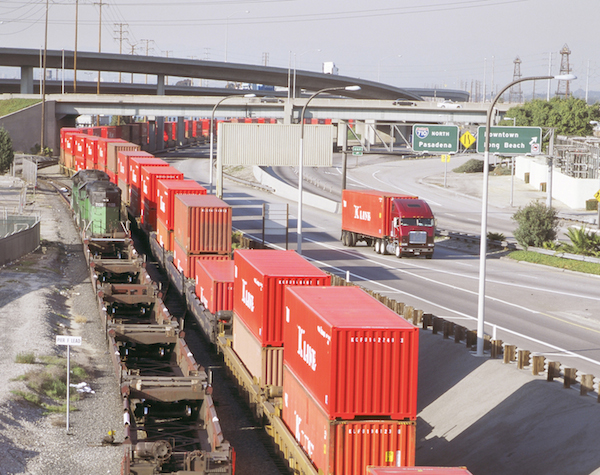 Six months after the most disruptive winter for North American supply chain interests in recent memory, the upcoming
summer-fall period is shaping up as the intermodal peak season of shipper discontent.
The makings are there for a perfect storm of rail delays in the summer-fall peak season, although analysts doubt
shippers will see anything on the scale of the 2004 meltdown, when a surge in import volumes overran deployed capacity. Still, with ocean carrier slow-steaming, drayage truck shortages and potential labor actions, any
intermodal delays will only increase the pressure on supply chains that already have little padding.
"What you have is a lack of surge capacity in the system and the railroads are running flat out," said Larry Gross, a senior consultant at research firm FTR Associates. "If there is a
backlog, you can't run any harder than you are, and more volume just further chokes the system."
Railroads in western North America already got a taste of potential peak-season trouble when shippers accelerated imports through U.S. West Coast ports ahead of the July 1 expiration of the International Longshore and Warehouse Union's contract. BNSF Railway and Union Pacific Railroad have been accused of being caught flat-footed, with some terminal operators complaining the carriers were running two days late in providing locomotives and railcars to on-dock facilities at the Los Angeles-Long Beach port complex.
Union Pacific, however, told JOC.com that the railroad does not have a crew or equipment shortage, nor has it experienced delays at the ports. BNSF did not respond to requests for comment.
Cargo diversions from the U.S. West Coast, meanwhile, are testing the Canadian intermodal network. Canadian National Railway on July 7 issued equipment allocations to ocean carrier customers through Port Metro Vancouver and the Port of Prince Rupert to deal with a surge of U.S-bound cargo.
"If the surge prior to the end of the ILWU contract is any indication of how traffic could be handled (during peak season), we could see some trouble," said Ron Sucik, president of RSE
Consulting. "It would take a perfect summer with no flooding and derailments for them to run like they would hope."
International shipping, freight forwarding with or without intermodal, shippers request a quote, use the button below:
Intermodal volume in June jumped 6.7 percent year-over-year to 269,346 units, the highest for any month in history, according to the Association of American Railroads. Domestic intermodal gains are driving much of that growth, fueled by expanding manufacturing production and shippers who are increasingly turning to the rails as trucking capacity tightens. Domestic intermodal traffic rose 6.9 percent year-over-year in the second quarter, compared to a 4.1 percent gain in the first quarter, according to preliminary Intermodal Association of North American statistics. International intermodal volume rocketed 9.6 percent in the second quarter, a marked improved from the 1.1 percent increase seen in the first three months of 2014. Total intermodal volume expanded 8.2 percent in the second quarter, after inching up 2.6 percent in the prior quarter.
Surging intermodal volumes aren't the only reason for mounting delays, however. A restocking of coal after the harsh winter, healthy grain exports and the domestic energy boom are making it difficult for the railroads to dig out from cargo backlogged during the winter. U.S. carload traffic was up 6.3 percent in June compared to the same period last year, according to AAR data.
The railroads' challenges in keeping up with the cargo growth don't stem from a shortage of track capacity, but from a lack of locomotives and crews, Sucik said.
Overseas Shipping, getting the answers first use the button below