International Air Freight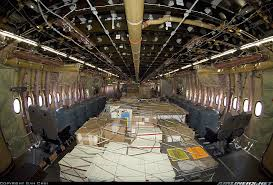 To our international air freight customers shipping from or to Europe, now take a look at how your cargoes are loaded one flying with a double decks aircraft. Shipments are on air freight pallets on rails & each shipment securely braced and blocked diminishing potential risk for breakage. Why it matters to you that Europe developed the European Aerospace Cluster Partnership (EACP). Air freight rates remaining competitive are critical to your bottom line costs & this EACP has just this in mind.
European Clusters Find Cooperation Makes for Strong Competitors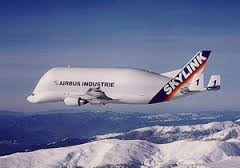 The European Aerospace Cluster Partnership aims to encourage young people to pursue careers in the industry and to coordinate efforts to build a strong skills base for the continent through its European Skills Hub for Aerospace project.
 October 21, 2013, 10:10 AM
European companies might still face a serious challenge to remain competitive in an increasingly global supply base, but the growing membership of the European Aerospace Cluster Partnership (EACP) has found that cooperation in keys areas such as building skills and research-and-development work can benefit them collectively more than if they battle with each other at every level. For instance, attendees of the EACP's recent annual meeting in Bilbao, Spain, heard how new funding from the European Union's Leonardo da Vinci program is helping schools across the continent teach skills required by aerospace firms locally through the Europan Skills Hub for Aerospace project. "There are greater skills shortages in some parts of Europe than in others, but overall if you look at the huge growth in the industry then
there could be a wider shortage of people in the future and we have to do something about this," said Walter Birkhan, managing director of Hamburg Aviation, which participates in the Niedersachsen Aviation cluster in Germany's Lower Saxony region. The largely small- and medium-sized companies that account for EACP's membership also have found success collaborating to secure European Commission-funded research work. The Clean Aerospace Regions project, for example, encourages firms to invest in environmentally friendly technologies and production techniques. According to Birkhan, the EACP and its constituent
clusters also have proved influential in improving the competitiveness of certain key aerospace supply chains and ensuring that, collectively, they enjoy strong connections with the larger OEMs. "The basis for helping each other to be more competitive is building trust, and this can be time-consuming," Birkhan told AIN. "We get to know how our colleagues [from different countries] work by cooperating with them on projects like these."
The EACP also has sought to engage and cooperate with potential new competitors outside Europe. For instance, its "internationalization" working group is forging connections with
clusters in Russia and Asia. Under the European Union's Seventh Framework research framework, the EACP promotes a project called Bridging East West Aerospace Research. At the same time, Western European aerospace clusters support the development of their counterparts in Eastern Europe. France's Aeriades Lorraine Aerospace Cluster and Aerospace Cluster in the Rhone-Alps region are the two clusters to join the EACP most recently. "We
have a lot of opportunities to cooperate, and Europe's clusters are quite strong and well supported," concluded Birkhan. "The approach we take is quite different from in the U.S." In his view, the aerospace industry is more widely distributed throughout Europe than in the U.S.
Air Freight Import and Export by ETC International Freight System
We are IATA licensed, having rate agreements with all major airlines in North America & coupled with similar agreements signed by our overseas associates, enhancing our competitive edge. Whether choosing our most economical service via our scheduled weekly consolidations, direct daily service for your most urgent orders, or, a door to door service exclusively handled through our network of established freight agencies, ETC Intl Freight System has your suited service ready for takeoff.
Enhance partnership with our customers with tracking of your shipments with the airlines around the world & proof of delivery (POD) from our overseas agents. ETC Intl. Freight System's consolidated rates are designed especially to keep prices aggressively low. ETC Intl. Freight System's interactive web-based tracking system gives you the added confidence of knowing the precise location of your cargo.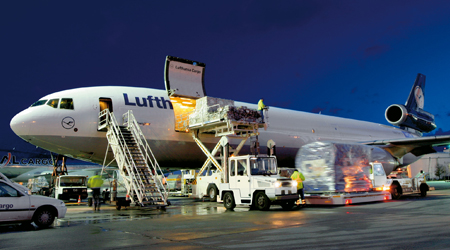 Useful Information
Air Cargo Height Restrictions
Passenger airplane Maximum height: 64 inches
Cargo Airplane Maximum height: 96 inches
To calculate air freight volume L x W x H in inches divided by 366 = weight in kilograms
To calculate actual weight in pounds to kilograms divided pounds by 2.2046
Air freighting your shipments on a priority basis or consolidated, timely handling is a constant.