ETC International Freight System (1-800-383-3157) (Sales@etcinternational.com) brings you information from Maersk Line.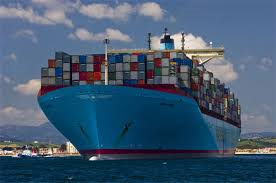 Shippers knowing their options are re-evaluating the port of entry (IE# goods destined to Southern California docking in Oakland with intermodal to Southern California.
Maersk Announcement of Import Store Door Delivery Surcharge
Dear Valued Customer,
On August 6, 2014 we issued an update regarding the current state of intermodal in North America. As you likely know, since that update the overall situation has not improved with the
cost of inland transport and door delivery further increasing as a result of extensive port congestion, ongoing truck driver shortages, and sharply elevated rail volumes increasing limitations on availability of rail equipment.
As a result, we have filed an Import Store Door Delivery Surcharge as follows:
Amount: 100USD per container

Scope: All US import store door shipments. Effective date: November 25, 2014.
We will continue meeting with our terminal and intermodal partners to identify all service delivery improvement opportunities. We will do our part to address these ongoing
challenges.
To further support you in learning more about the current state of intermodal we have updated the online newsroom which we created for you in early August. To access this information,
click here. We will continue to post relevant and fresh information this page as the year progresses. Further, if you would like to review our previous update from August 6, you can read it by clicking here.
If you have additional questions please contact your sales or customer service representative.
Implications of the 2015 ECA sulphur regulation
From 1 January 2015 new legal requirements will come into force in the Emission Control Areas
(ECA) in North Europe (Including the Baltic Sea, North Sea and English Channel) and North America (200 nautical miles from American and Canadian shore). This legal requirement will lower the maximum allowed content of sulphur in fuel burned in the ECA's to 0.1% sulphur from todays 1.0%.
The 2015 requirements will have significant positive effects on the environmental and health in the regions and Maersk Line fully supports such a development, subject to strict regulatory enforcement to safeguard the environmental benefits and ensure a level playing field for ship operators.
 IMPLICATIONS

This requirement will have the following effects and implications for society, Maersk Line, and
our customers:
Environment and Health: Sulphur
emissions (SOx) will be reduced by 90% which will have significant positive effects on the environment and on health in general. SOx emissions are toxic and cause respiratory implications as well as acid rain.
Maersk Line: Fuel with a sulphur content of 0.1% is significantly more expensive than fuel with 1.0% sulphur content required in ECA areas today. By 2015, Maersk Line expects to
purchase 650,000 tonnes of fuel with 0.1% sulphur content annually for our fleet, equal 
————————–
Air Freight carries lower the fuel surcharge.
Not all air freight carriers are lowering the fuel surcharge & in spite of lower cost. African airlines average at about $ 1.20/kilo. Many other airlines, such a sChina airlines now have reduced the fuel surcharge down to $ 0.95/ kilo. The TSA airlines security rate based on the gross weight, remains at $ 0.15/kilo.
ETC International Freight System (www.etcinternational.com) is also contributing in keeping the air freight rates down as well as having lowered their line haul & warehouse rates to get the air freight shippers a competivie edge.
Shippers air freighting to world destinations, please contact ETC International Freight System by clicking on the button below: