Reid / ETC International Freight System
International Shipping, Maritime, Air, Global Logistics
Frustration is mounting for truckers at the NY, NJ terminals charging detention when they still operate at a very sslow speed. Please review the article from JOC below: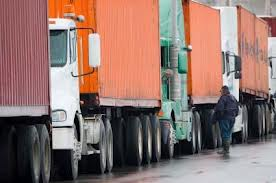 NY-NJ Truckers May Seek State Action
Joseph Bonney, Senior Editor | Nov 19, 2012 11:35AM EST
Frustrated by post-hurricane delays, New York-New Jersey port truckers say they may seek state legislation to prohibit marine terminals from charging detention and demurrage when congestion prevents prompt pickups and deliveries.
"We're discussing it with our members, our attorneys, and politicians," said Jeff Bader, president of the Association of Bi-State Motor Carriers and of Golden Carriers Inc.
He said the association unsuccessfully sought legislation in New Jersey several years ago and may renew its effort now.
Three weeks after Hurricane Sandy, the port's terminals are still digging out from cargo backlogs aggravated by storm damage that has caused shortages of chassis and trucks. Truckers have reported hours-long delays.
Terminals have been unwilling to waive charges for demurrage on containers stuck inside terminals or detention for boxes that truckers can't return to terminals.
Most port terminals stayed open Saturday to chip away at the import-cargo backlog that has clogged terminals and combined with equipment shortages to produce slow turnaround times and long lines for truck drivers.
The port was closed for several days after Sandy swamped the port with four feet of water. Several carriers diverted cargo to Norfolk, Baltimore and Halifax, forcing shippers to pay the cost of repositioning boxes.
An estimated 25 percent of Drayage trucks in the port sustained storm damage, Bader said. Meanwhile, thousands of chassis flooded by salt water have had to be taken out of service to drain, clean and replace lubricating fluids.
Bader praised the Port Authority of New York and New Jersey for working with companies to quickly clear storm damage and reopen terminals.
"The port authority did an outstanding job of reopening the port and keeping customers informed," he said. "Everyone pulled together."
But since then, he said, it's been a story of constant delays and expense. Cargo interests have been stuck with extra demurrage and detention charges that overwhelmed terminals have refused to waive.
Bader said ship lines have resisted extending free time for containers, and that terminals "won't budge an inch" on demurrage. Truckers are forced to pass the costs to customers, who aren't happy about it.
"It's a black eye for the port," he said.
PNW Grain Employers Give ILWU 'Final Offer'
Bill Mongelluzzo, Associate Editor | Nov 19, 2012 9:15AM EST
Indicating that little progress has been made on key issues despite help from a federal mediator, the employers' bargaining organization that represents six grain export terminals in the Pacific Northwest presented the International Longshore and Warehouse Union with its final contract offer.
The union responded Sunday that, despite reports to the contrary, its membership has not decided to call a strike. "We want to keep the grain moving as we have done nonstop since the 1930s," ILWU Coast Committeeman Leo Sundet said.
The Pacific Northwest Grain Handlers and ILWU locals from Portland; Vancouver, Wash.; Tacoma; and Seattle have been negotiating since August. The previous contract expired at the end of September.
When it became obvious to both parties in mid-October that they were far apart, the employers and the ILWU agreed to seek assistance from the Federal Mediation and Conciliation Service. Negotiations have been held since Oct. 29 with the participation of the FMCS, but discussions have failed to produce an agreement.
The employers said the sticking points do not involve salaries and benefits, but rather "uncompetitive workplace rules that are significantly different from those agreed to between the ILWU and two competing grain terminals on the Columbia River."
The key benchmark contract for employers was signed earlier this year by the EGT grain export terminal in Longview, Wash., and the ILWU, after months of bitter demonstrations and numerous arrests involving longshoremen and their spouses. EGT had attempted to open the terminal with labor represented by another union.
In one of those demonstrations, the ILWU's international president, Robert McEllrath, was detained and chargedwith attempting to block a train from entering the terminal.
EGT and the ILWU finally agreed to a tentative arrangement earlier this year that was brokered by Washington Gov. Chris Gregoire. EGT agreed to hire labor represented by the ILWU.
However, the contract that the ILWU eventually negotiated with EGT contains provisions that differ from the contract under which six other terminals in the region have been operating. The six terminals that are represented by the grain handlers association are reportedly seeking concessions from the union similar to what EGT has in its contract with the ILWU.
Sundet said the terminals have profited under the previous contract that expired at the end of September. He said the ILWU has been bargaining in good faith, as the union has done since the 1930s.
"We believe that in light of a low-yielding harvest and corresponding high bushel prices, the profitable grain merchants are using the circumstances to undermine a mature 80-year contract with longshoremen that made the Northwest one of the most productive grain export regions in the world," Sundet said.
The ILWU will not comment on the employers' final offer until it has been shared with the union membership, but Sundet said any reports about the union planning to call a strike are not accurate.
The six terminals that are members of the Pacific Northwest Grain Handlers are the Louis Dreyfus terminal in Seattle; Temco/Cargill in Tacoma; United Grain/Mitsui in Vancouver, Wash.; and Temco/Cargill, Louis Dreyfus and Columbia Grain/Marubeni in Portland.