Ports and Carriers to Feel Wake of Triple Es
Mike King, Special Correspondent | Feb 27, 2013 11:11AM EST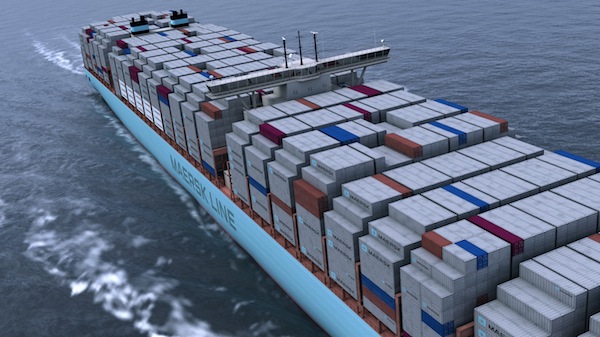 When Maersk Line deploys the first of its colossal Triple E container vessels later this year, the world's largest container carrier won't just make history. It also will set off a chain of events that will ripple throughout the shipping world, and especially in the trans-Pacific.
In many ways, those ripples already are making a wake for shippers, other carriers, terminal operators and Maersk itself as the industry prepares for an onslaught of new capacity this year, led by a new class of mega-ships.
For carriers, that means cascading vessels capable of carrying 10,000 20-foot-equivalent container units onto the trans-Pacific or through the Suez Canal from the Asia-Europe trades, where the new class of mega-ships will flow. It means suspending or streamlining some services and further slow-steaming ships to manage capacity so rates don't plummet.
For shippers, it means managing their supply chains so they don't get caught short on inventory, and wrestling with longer sailing schedules and turnaround times.
For ports and terminal operators, it means a new emphasis on productivity to get ships in and out quickly, so they're back on the water where they're making money for carriers.
As for the Triple Es themselves, they come with a $190 million price-tag each and, at 18,000 TEUs, will be capable of carrying 12.5 percent more cargo than the next biggest vessels afloat — CMA CGM's 16,000-TEU ships. At nearly 1,300 feet long — about a quarter-mile — and nearly 200 feet wide, they'll be the largest container ships and the biggest vessels of any type plying the world's oceans.
Maersk is scheduled to take delivery of 10 of the vessels by 2015, but canceled options for another 10 Triple Es last year because of the weak outlook in the Asia-Europe trades, where the vessels will be deployed. It's expected to take delivery of the first two Triple Es this year.
The introduction of the Triple E is part of an industrywide bump in capacity increasingly found on ever-larger vessels. Alphaliner expects global fleet capacity to increase 8 percent this year after a 6 increase in 2012. And, in its latest projections, the research analyst expects ships capable of carrying 10,000 TEUs or more to account for 18 percent of the global fleet by the end of 2015, up from 6 percent in December 2010.
Maersk believes the Triple E's unique design will generate substantial operational and competitive benefits. Indeed, the "Triple E" name is derived from the economy of scale, energy efficiency and environmental improvements the vessels will offer.
From a price-point perspective, the ships will offer Maersk a significant cost advantage, according to Thomas Knudsen, the carrier's Asia Pacific CEO. "This is an industry still doing relatively poorly," he said. "The average industry return on invested capital remains low and not at a long-term sustainable level. A strong cost base is essential these days. That's the main thing. The vessels will give us lower slot costs because fuel is our biggest expense."
The Triple E boasts an array of fuel-efficient features that will allow it to produce 50 percent less carbon dioxide than the industry average.
With a top speed of 23 knots, less than the 25-knot top speed common on the previous generation of container vessels, the Triple E also is designed for slow-steaming.
An expanded inside cavity and U-shape hull provides for 23 rows of containers across, while the navigation bridge and accommodation for up to 34 people has been moved forward, and the engine room and chimneys back, to create extra space.
The ships are outfitted with two ultra-long-stroke engines that turn two propellers designed to optimize hull and bow forms, plus an advanced waste heat recovery system that captures and reuses energy from the engine's exhaust to provide extra propulsion and reduced fuel consumption.
Where the vessels will call is undecided, but container terminal operators are gearing up to handle the new goliaths of the sea.
"We are working on a deployment plan on how we will introduce the Triple E vessels in our network, but we are constantly adjusting this to ensure that we have a cost-efficient network to serve our customers in a competitive manner," Knudsen said. "We need to remain agile to grow with the market. The idea with the Triple E vessels is to deploy them where they make most sense from a business point of view. We will deploy them in Asia-Europe where we have the biggest market share."
He added that the vessels would not be used for a market share grab. "We need to ensure we're profitable; we want to maintain market share, but we're not using the Triple E to increase it. We want to ensure sustainable financial performance."
The carrier in February reported 2012 operating profit of $461 million, compared with a $553 million loss in 2011. It attributed the turnaround to higher freight rates across its network and lower operating costs.
The first issue for ports receiving the Triple E vessels will be the size of cranes used to load and unload them. The greater outreach required to service the ship's extra row of containers will mean longer booms. The boom also must be located at a greater height because of the height of the ship's container stacks, which also creates a number of new stresses, said Ross Clarke, head of design and innovation at APM Terminals, a Maersk sister company in the A.P. Moller – Maersk Group.
"The wind forces on the crane will be higher, which has an impact on wheel loads," he said. "So ports will study if their wharfs can take the extra loads these bigger cranes generate."
Of APMT's facilities, Clarke said new facilities at the Jade Waser Port facility in Wilhelmshaven, Germany, and the company's new automated Maasvlakte II Terminal in Rotterdam will be have cranes and support superstructure able to handle the ships when the terminals open next year. In Asia, APMT's Tanjung Pelepas hub in Malaysia is building two new berths that will be Triple E-capable when completed in mid-2014.
"Our in-house engineers came up with a crane spec for suppliers to quote against, so they can verify they can build to our requirements," Clarke said. "As Triple E cranes are heavier than the largest cranes in use today, we needed to know from suppliers the expected weights of the cranes so we can see whether existing wharf structures in some terminals will be capable of supporting them."
Complete coverage of trans-Pacific maritime trade
Crane weight hasn't been a major issue in terms of wharf strength, Clarke said. But with the Triple E, the ships are so big and the cranes so heavy, that the wharf structure in some locations is reaching its design limit. "We have spent a lot of time, energy and money checking the way wharfs have been constructed, looking back over design criteria to see if they can take a standard design Triple E crane, or if we need to make it lightweight, which usually costs a bit more," he said. "But taking weight out of the crane is easier than strengthening an existing wharf.
"For existing terminals, we also need to check we have sufficiently strong support superstructure such as the bollards that the ship will tie up to," Clarke said. "These ships have more wind area because they will have high container stacks on deck. They need a sufficient number and strength of bollards as these ships are bigger and apply more load than was contemplated when many ports were originally designed.
"The fenders which cushion the ship as it comes alongside the wharf also need to be able to absorb more energy as these are the biggest ships afloat," Clarke said.
APMT has been liaising with Maersk for more than a year to pin down the precise terminal call requirements of the Triple E, but Clarke said that for competitive reasons it was hard for the carrier to be specific about exactly what its port rotation will be. "Lines like to keep choices open," he said. "Some of the investments are significant for us and our competitors. These are the only ships of this size, so an operator will be reluctant to invest heavily for a ship if it doesn't then call. Nobody wants equipment that's bigger than required, so obviously we are trying to get full confirmation before we invest.
"There will be the initial ports of call and then secondary additions later," Clarke added. "If we need to invest, we will."
For the landside logistics in Europe, the key to getting the extra boxes off the berth will be maximizing the use of rail. "We'd also like to see truck receivals and deliveries spread across the entire week and day to avoid unsustainable peak demand," he said. "We will need to use off-peak times so there could be some logistics players that need to consider operating different hours than they do now."