Evergreen Takes Delivery of First L-Type Container Ship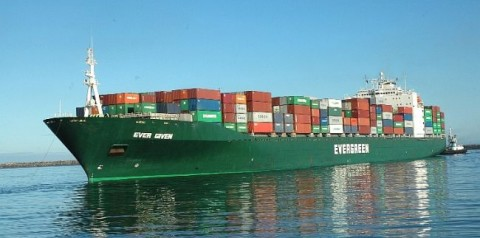 International Shipping, Maritime, Freight Forwarding
8,452-TEU Ever Lambent is expected to enter Far East-Europe service in August
Evergreen Line took delivery of its first L-type container ship, the Ever Lambent, which has a capacity of 8,452 20-foot-equivalent units, at the Samsung Heavy Industries shipyard in South Korea.
The Ever Lambent, which means shining or sparkling, is 1,096 feet long by 150 feet wide, with 942 reefer plugs and a draft of 46.6 feet. The vessel can cruise at a speed up to 24.5 knots. The ship is owned by Evergreen Marine (UK) Ltd and is expected to join Evergreen's Far East – Europe route in August.
The Evergreen Group's previous shipbuilding program was concluded with the delivery of the S-type Ever Salute in January 2008.
The group started a new shipbuilding project in 2010 with an order for 20 L-type vessels from Samsung Heavy Industries that will be delivered by 2014. In 2011, Evergreen placed an order for another 10 vessels of the same specifications with Taiwan Shipbuilding Corp., to be delivered from 2013 to 2015.
The L-type ships incorporate the environmentally friendly designs of the S-series fleet and are built of high-tensile steel with a hull design and minimum ballast water that reduces fuel consumption and carbon emissions.
All 30 L-type ships will be equipped with electronic-controlled fuel injection engines that minimize fuel consumption for slow steaming.
Global Logistics, Overseas Shipping, Maritime
Peak Season surcharges are about to take place. Here are the overseas places on the chart below:
Freight Forwarding, Air, Ocean, Shipping, Global Logistics, One to One Logistics
ETC Intl. Freight System is a licensed freight forwarder, NVOCC bonded & a California Corporation since 1984. Whether, you seek air or ocean freight & to our broad customer base, we offer warehousing, distribution, packing, crating, trucking, customhouse brokerage & inland delivery/pickup services. For more information or pricing through the web, please visit us at www.etcinternational.com.