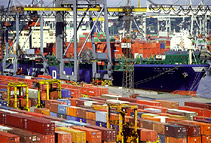 Ocean cargo carriers in the Far East/North Europe trades are watching intently as the July 1st general rate increases (as much as $1,000 per 20-foot container on the westbound leg) go into effect amidst falling spot rates and a stalling flow of ocean cargo.
This particular round of GRIs is especially critical to many ocean carriers, who will face the all-time highest rate increases on the world's biggest trade route (up to 180% for some carriers) in conjunction with the sharpest collapse in spot rates in recorded history.
Ocean Carriers Counting on Peak Shipping Season
Carriers are bargaining for the upcoming GRIs to hold up, (despite multiple failed rate increases since the beginning of the year), due to timing; the July 1st rate hikes coincide with the kick-off of peak cargo shipping season as European importers stock up on Christmas holiday merchandise from Asia.
But unfortunately peak shipping season isn't guaranteed, as was demonstrated in the previous year as European consumers spent less due to higher unemployment figures and financially difficult times. So ocean carriers seek to minimize losses to in an effort to reduce negative impact to their bottom line.
According to shipping industry analyst Alphaliner, "Current freight rates are patently unsustainable, with base freight rates falling to negative levels since mid-May after deduction of carriers' average bunker adjustment factor."
The eyes of the shipping industry will be focused on the strategies of Danish carrier Maersk Line, the leader in the Far East-Europe market, as they roll out the first Triple E vessel Maersk Mc-Kinney Moller.
Nils Andersen, CEO of Maersk parent A.P.Moller-Mearsk, is taking an aggressive stance on the issue, indicating that "Maersk Line is much more competitive and has gained strength to deal with the challenging shipping markets."
Anderson continues, "Our competitors have all lost money. When we have a tough time … our competitors have a bad time." Maersk achieved "relatively high" utilization rates by effectively anticipating the market, as many of its competitors "are paying the price … (for) doing something different."   
But as yet there are no indications that other shipping carriers are ready to alter capacity, even if the peak season turns out to be a meager one. In comparison from January to July:
The G6 alliance will boost their weekly capacity by 15 percent
The  CKYK alliance will boost their weekly capacity by 8 percent
Maersk reportedly plans to operate the new ships at 14,300-TEU capacity for the remainder of the year
Lars Jensen of SeaIntel Maritime Analysis contends that capacity management is key to restoring rates and profitability on the Far East-Europe routes, and shippers should brace for sudden service cancellations and rejigged schedules. At the recent Global Liner Shipping conference in London, Jensen said "the GRI has become a tool to get rates up to the level they were when the GRI was announced. GRIs are no longer a means of increasing rates but of slowing the rate of erosion."
Simon Heaney, research manager at London-based Drewry, Independent Maritime Adviser, cautions that "shipping carriers will be forced to curb their losses somehow. Service quality might be forsaken as some operators might ask what benefit they get from offering reliable port-to-port services." He goes on to say that "we expect the first step to be further slowing down on ship speeds, which in itself should not lessen reliability, but will lengthen transit times even more."
Shipping carriers competing with Maersk will strive to remain in good standing within the industry in hopes of maximizing any benefits to be found through the summer months. But in the short-term, early July will be the focal point as ocean carriers anticipate a make-or-break shift in the shipping industry.
Ocean Cargo Shipping

At ETC International, our ocean shipping network has been serving companies in need of commercial and industrial cargo shipping since 1984, and we are committed to keeping our customers up to date with the latest shipping industry developments so that they may make the most informed decisions when it comes to ocean shipping considerations. Our expertise in this industry enables us to provide invaluable information to our commercial clients to help them make the most of their shipping dollars.
We are happy to provide a no-cost, hassle-free rate quote on ocean cargo shipping for manufacturers, retailers and wholesalers, and to discuss additional considerations of the overseas shipping process, so that your business can reliably ship goods to paying customers around the globe.
You can get your convenient online rate quote right here: