Spot ocean rates to Europe down, to US up
Content sourced by JOC
Spot shipping rates from Asia to Northern Europe are 20 percent lower than they were this time last year, according to the Shanghai Containerized Freight Index.
The SCFI, which prices for the week ahead, showed freight spot rates from Shanghai to Northern Europe stood at $1,106 per 20-foot container. The 1.3 percent week-over-week loss totaled about $14 per TEU (20′ container equivalent), in the second straight week of losses in lanes to Europe.
"It's always a bit of a surprise when the rates go down, even though there's been some [general rate increases] in the lane," Jean Marie Lamay, head of commodity and freight solutions at HSH Nordbank, said. "In the coming weeks we may see something, but not much."
Lamay said that some liners posted general (freight) rate increase (GRIs) for July. Lamay said some of those carriers — the July 1 group included Maersk, MSC, OOCL, Hanjin, APL, NYK Line, Zim, Hyundai Merchant Marine, K Line and Evergreen — postponed the GRIs to July 15. Others are already offering spot rates with a $300-per-TEU GRI, nearly half of of the GRI average of $610 per 20′ container (TEU).
The shipping spot rates to Northern Europe have dropped 37.3 percent, or $659 per 20′ ocean container (TEU), since Jan. 1.
Freight spot rates to the Mediterranean were down 1.8 percent to $1,567 per 20′ ocean container. The rate is still 13.1 percent higher year-over-year.
Rates to U.S. up following weeks of declines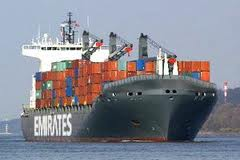 Trans-Pacific spot rates to the U.S. West Coast were up on the SCFI this week, rising 2.8 percent to $1,769 per 40-foot container. This follows five straight weeks of steady declines that
totaled $267 per 40′ container (FEU).
The rate is still 16.3 percent lower year-over-year. There have been no year-over-year gains on the SCFI in over a year.
The Drewry benchmark rate from Hong Kong to Los Angeles held steady at $1,650 per ocean 40′ container (FEU) this week, at a two-year low.
Drewry said it believed that cargo diversions due to ongoing labor negotiations on U.S. West Coast ports were holding rates back from any gains.
East Coast rose
2.4 percent week-over-week to $3,291 per 40′ ocean container (FEU).
Members of the Transpacific Stabilization Agreement pushed back a peak-season surcharge of $400-per-FEU in favor of a two-phase PSS in early and mid-July, noting the expiration of certain market rates on June 30.
SCFI spot rates to the U.S. East Coast also showed life, rising 2.4 percent week-over-week to $3,291 per FEU. Although rates to the East Coast had been decreasing slowly for the past five weeks, they were still showing year-over-year gains. The rate this week, however, was
2.1 percent lower than the same week of 2013.
Ocean spot rates to the U.S. West Coast on the SCFI have dropped 2.5 percent, or $46 per FEU, since Jan. 1. Rates to the East Coast have gone up, gaining 4.9 percent or $154 per 40′ container (FEU) since the first of the year.
Ocean Service
ETC International Freight System is a Federal Maritime Commission (FMC) licensed, as a non vessel operator common carrier (NVOCC) bonded, an ocean service contract holder & ocean consolidator providing services to and from world destinations. ETC and its freight network accesses yearly volume ocean contracts from a variety of steamship lines. Through us, our customers obtain wholesale pricing with savings passed down to them.
Nationwide: (866) 793-3418
Useful Information
Container Max Weights:
20' – 34,000 lbs (if weight exceeds 34,000 a tri-axle chassis must be used)
40' – 44,000 lbs
Standard container internal dimensions
20'SD: 19′ 6″ L x 7′ 8″ W x 7′ 9: H (capacity: 1250 CFT.)
40'SD: 39′ 5″ L x 7′ 8″ W x 7′ 9: H (capacity: 2434 CFT.)
40'HQ: 39′ 5″ L x 7′ 8″ W x 8'10" H (Capacity: 2495 CFT.)
Less Than A Container Load (Consolidated ocean cargo)
Ocean Freight minimum – 1 Cubic Meter = 48"x 42"x30"
Standard pallet Sizes = 48"x 40" or 48"x42"
ETC Int'l Freight System Ocean Service
Our ocean freight shipping service is a non-vessel operator, common carrier bonded. As an ocean service contract holder and consolidator we are certified to provide shipping services to and from various destinations worldwide. Working as freight forwarder company, we offer you our services from inception to end so that your relocation overseas is completed with success.
Helping You Relocate Your Home Or Office
Our international shipping company transports goods, merchandise, and personal belonging with door-to-door service. We confidently offer home and office relocation services and automobile shipping to a number of different countries overseas. We arrange the movement of your items and ensure the process is completed, guaranteed. Our overseas shipping services allow you a worry-free way to get your items to their destination.
ETC International Freight System is a Federal Maritime Commission license. The terms and conditions of our contract are available upon