Overseas Container Shipping. Union, Management Negotiations.
Take a look at the latest news from the California Waterfront Coalition. The article below sheds some unique light on a perspective that may be important to you… the international shipping customer. You will learn from the Waterfront Coalition article below some differences between a teamster strike and how that my affect your own international freight forwarding but you also may learn how well your international freight forwarding company protects their customers from slow downs or maintains a high level of dependability. After all, it's not your export company that needs to deal directly with overseas shipping, especially if you have an experienced, expert overseas shipping company like ETC International Freight Systems. Having a headquarters on the west coast also helps a freight forwarder stay a little closer to actions and interactions of union, management relationships and how keep an overseas container shipping running smooth.
About your shipments & the latest news from The Waterfront Coalition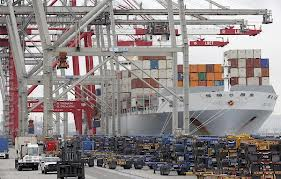 Late last evening (Eastern Time) the ILWU and the PMA issued a statement saying that they agreed to take a 72 hour time-out from negotiations while the ILWU "attends to other negotiation in the Pacific Northwest." During this break the contract will be temporarily extended until 8:00 am pacific time on Friday, July 11th.
This break will give PMA a chance to take stock of where they currently stand.
Finally, The Waterfront Coalition wants to stress that yesterday's Teamsters' action was not a "strike" as has been widely reported in the press. It was part of the Teamsters' ongoing effort to organize short-haul trucking operations and so, by definition, it was not a strike. Since it was not a strike, the demonstrations were not "picket lines," and the ILWU was under no obligation to honor them. The ILWU has gone to great lengths on social media to correct the characterization of yesterday's Teamster activities as a strike. The Teamsters' actions continued into today which caused several terminals to close for a period of two hours. All
terminals are now open and have returned to normal business.
We will keep you updated as we get the information of the situation.
Do you need Overseas Cargo or an International Shipping Quote? Use this button for a free, easy & no obligation estimate:
ETC International Freight System (Sales@etcinternational.com) provides you with an all inclusive format with a line by line itemization:
Template
7/8/2014
To the attention of John Smith
Dear John:
Thanks for calling in your rate request, I am happy to assist you.
ETC Intl. Freight System is a licensed air & ocean freight forwarder (IATA, FMC, NVOCC bonded). We are a California Corporation since 1984, whether, you seek air or
ocean freight & to our broad customer base, we offer warehousing, distribution, packing, crating, trucking, customhouse brokerage & inland delivery/pickup services. For more information or pricing through the web, please visit us at www.etcinternational.com.
Please review our estimate below:
Local Services
Pick up / delivery: $
Estimated labor ( men x hour): $
Estimated packing material: $
Travel time: $
Export services
Container positioning (Local live load 1-free loading hours & 90.00 per added hour) in :
Chassis daily rental fee:
U.S. Terminal Charges:
Export Documentation /Handling:
Ocean Freight / Air Freight to :
Marine Insurance (optional ):   of the Value Declared
Port security fee:
Los Angeles port has a clean truck fee of $ 66.50 per 20' container or $ 133 per 40' container
Los Angeles port has a day-surcharge (Pier Pass) of $ 80 per 20' container $ 100 per 40' container
Overseas import charges
Port fee:
Customs Entry (up to 3 classifications):
Port tax:
Duty: As per Customs Tariff
Chassis daily fee:
Delivery/ Container positioning (live unload 1-hour free & $ 89/additional hour)
Notes:
Any fees assessed due to customs exam/inspection (i.e. exam fees, storage fees) are not included, and can be paid directly to the parties assessing these charges
Total before insrance:
Frequency: 1 Sailing / Flight per week
 Estimated transit time: (subject to service & destinations)
Notes:
Please always refer to the information (disclosure) sheet, see attached.
Once your shipment is booked, it is your acknowledgement of the sailing, rate schedules and our terms & conditions.
Please refer to this email in any future correspondence. Thanks again and please let me know
of your job date & if you would like to book the space with us now, please
contact us to find out our pre-payment modalities.
Cordially,
Pat Malden
ETC Intl. Freight System since 1984
21039 S. Figueroa Street, Suite 101, Carson, California 90745
1-800-383-3157 – Direct 1-310-632-2555 Ext 103 -Fax 310-632-3044
E-Mail: reid@etcinternational.com – www.etcinternational.com
FMC & IATA licensed, NVOCC bonded. Rated AA from the Better Business Bureau
Strong infrastructure draws big ships to Pacific ports
West Coast ports will spend the coming year in much the same way they spent the past year: preparing for big ships operated by big carrier alliances.
In some ways, ports on North America's west coast are ahead of their competitors in the East. The major container gateways of Port Metro Vancouver and Prince Rupert, British Columbia;
Seattle-Tacoma; Oakland and Los Angeles-Long Beach already are benefiting from the deep harbors and strong intermodal rail connections required in this era of big ships. Some major East Coast gateways are still engaged in developing those costly projects.
Being big-ship ready, however, involves more than having deep water, on-dock railyards and intermodal connectors to the transcontinental rail networks. The ports today are investing in taller, heavier super-post-Panamax cranes that can reach across 22 rows of containers
on a vessel. They are rebuilding and strengthening wharves that were designed to handle much smaller cranes.
West Coast ports also are adjusting to the reality that carriers, through alliances and vessel-sharing arrangements, are concentrating their vessel calls at fewer ports and terminals. Shipping lines seek density. Pushing more freight through fewer ports allows the carriers to use the capacity of their big ships more effectively and achieve the economies of scale inherent in the mega-ships.
These savings are compelling. Compared to a Panamax vessel with a capacity of 4,800 20-foot container units, an 8,000-TEU ship offers a 47 percent lower slot cost, and a 14,000-TEU ship has a 60 percent lower slot cost, John Wheeler, liner representative of the South Carolina Ports Authority, told the JOC's TPM Conference in Long Beach in March.
For the full article, please refer to 7/7/14 JOC.com
Shippers, please call ETC Freight System at 1-800-383-3157 or email at Sales@etcinternational.com or use this button for an easy free freight estimate