Service, Reliability, Trust & Performance Are Keys To… Selecting The Perfect International Shipping Provider…
Shipping Cost May Rank At The Top Of That List.
The article below highlights some new technological changes that are helping the international shipping organizations remain on the cutting edge of service. When a quality Freight Forwarding Company learns how to reduce operational costs, they normally share those savings with their loyal customers. Here is a new method that quality international shipping companies are using to save money and pass on the savings to you, the customer.
See how the razors edge international shipping companies are learning how to revolutionize shipping by using liquid natural gas to lower the costs of shippings and the goods they are carrying.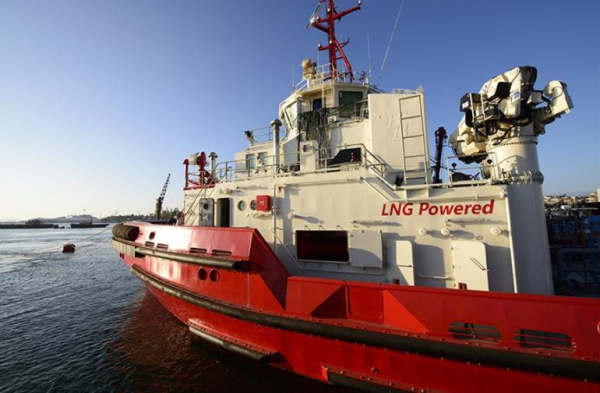 Here you see one of the new and of course rare tugboats that are powered by liquid natural gas. This tugboat is so new in fact that this photo is of this newly liquid natural powered gas vessel waiting for its first assignment and water trial. All indications are positive as they have successfully constructed this vessel and configured it to provide all the necessary power provided by this liquefied natural gas. Common sense would tell us that it wouldn't have made it this far if the idea itself had too many sizable wholes in it. Just getting to this stage gives not only international shipping companies real hope but their customers are crossing their fingers just as tightly.
As "International Business Times" puts this "These ships may be the vanguard of a global boom in LNG-powered shipping, produced by the explosion in U.S. tracking and by new international emissions restrictions. Liquid natural gas may end up turning global shipping on its head, as shipping companies look for an edge in their battle to cut costs and reduce carbon footprints". This quote and perspective makes an awful lot of success and if they keep their eyes on the prize, we may all come out winners.
Additional news that also supports this change in momentum is that the San Diego based Tote-Shipholdings ordered the words first Liquefied Gas Powered Container Ships. Coupled with this commitment, the company has also put plans into place to convert 4 existing ships to utilize this same new technology. That is a significant statement and obviously a commitment by at least one strong believer.
To bring even more hope to international freight forwarders and international shipping customers, In January, the Mississippi-based Gulf Coast Shipyard Group launched the first of six LNG dual-fuel offshore supply vessels, the first of their kind in the Gulf of Mexico.
And in Europe, French operator Brittany Ferries recently ordered a massive, 2,500-passenger LNG-powered passenger ferry expected to enter service in 2017. General Electric (NYSE:GE) and petroleum giant Royal Dutch Shell (LON:RDSA) are also looking to get in on the act.
How can we make such a promising story even better? Well, we can by telling you that currently fuel accounts for an average amount of at least 70% of all costs related to shipping a container from one point to another. This is mostly because they run on cheap, dirty, bunker fuels. Believe it or not, just the air pollution alone accounts for around 50,000 deaths per year alone and thats only on Europe. One response to this significant challenge is that Regulations to be introduced by the International Maritime Organization next year and in 2020 will make high-sulfur fuels, such as bunker fuel, illegal for use in ships sailing in numerous emission-control zones around the world.
On the reverse side, Liquid Natural Gas, unlike bunker fuel, contains no harmful sulfur dioxide, emits 26% less carbon dioxide and almost zero smoke. That is something we would all like to hand our hats on.
So, why are there are only 50 ships currently configured to operate using these new technologies and why isn't there an aggressive effort in converting the majority of today's current fleet to be converted to operate on liquefied natural gas? The obvious answer is the cost involved to make these conversions.
Well, the news isn't quite as bad as we have experienced in other industries and major overseas shipping carriers like Maersk has plans to launch 20 vessels on the larger side. In fact they confidently predict that they will have an immediate fuel savings of about 35% per container when compared to some of the smaller ships they had the option of building while still applying this new Liquid Gas technology.
But on a grander scale, vessels running on American LNG operating intercontinental routes could potentially save hundreds of thousands of dollars per journey. With gas prices forecast to remain steady for at least the next five years, cheaper shoes and cars may not be far off for North American consumers.
ETC International Shipping & Frieght Forwarding Systems is always investigating methods to save our customers money while improving customer services. To speak with one of our overseas shipping experts or simply getting a rate quote, just just bthe button below.