According to the Council of Supply Chain Management's annual State of Logistics Report, U.S. business logistics costs held at 8.5 percent of Gross Domestic Product (GDP) in 2012 for the second straight year following the end of the recession in 2010, and more of the same can be expected through 2015.
This may seem like a consistent trend, but Rosalyn Wilson, senior business analyst at Delcan Corp., (and author of the report for the past eight years), writes, "I do believe that the economy and the logistics sector will slowly gain sustainable momentum, but that we will still experience unevenness in growth rates."
Supply Chain Industry Logistics Spending
Wilson predicts that 2013 will see a similar pattern to the last two years: mixed economic signals and unbalanced performance, and that the outlook for the next few years remains unchanging, with slow and inconsistent economic growth and logistics costs keeping pace.
Timeline of logistics spending ratios over the years:
In 1981, when the annual report was first compiled, logistics spending was estimated at 16.2% of GDP.
In 2001, the ratio declined steadily, dropping below 10%.
Through the 1980s, the decline was due mainly to trucking deregulation, which reduced freight transportation costs.
Through the 1990s, an additional boost was provided by improved supply chain management.
For more than a decade, the ratio of logistics costs to GDP fluctuated within a narrow range, in line with the economy's health.
In 2009, the ratio fell to 7.9%, but only because slow sales forced companies to order and ship fewer goods.
In 2010, the ratio recovered to 8.3% before plateauing at 8.5% for the last two years.
In 2012, logistics and inventory costs increased 3.4%, while transportation, the main component of logistics costs, rose 3%, impeded by weak volumes and rates.
For Richard Thompson, executive vice president of the global supply chain practice at Jones Lang LaSalle, the State of Logistics Report (SoL) represents a "baseline that provides shippers with a year-to-year metric on the health of logistics." He states that, "This was especially true in intermodal, since it didn't experience capacity problems faced by the trucking sector."
Key points made by Thompson during his service as panel moderator at the 2012 SoL press conference in Washington:
"Trucking companies are also using intermodal rail to help offset the impacts of driver shortages and the costs of acquiring and maintaining new equipment," he said.
In spite of tightening capacity and an overall decline in volume, he adds that trucking rates were still up 5% to 15% over the course of 2011.
The air cargo sector enjoyed a record year for exports, but the report shows that the industry still experienced a decline, with domestic air cargo revenue down more than 3% compared with a less than 1% decline in international revenue.
"The challenge facing the ocean container industry is even more disconcerting, because the carriers just keep building new vessels to keep up with competitors, when they really should be limiting capacity." says Thompson. He attributes this behavior to a holdover from the days when the mantra for ocean carriers was 'grow or die.' "But what they're really doing," he adds, "is growing excess capacity, thereby contributing to rate erosion, service declines, and operational losses."
If you are a manufacturer, retailer or wholesaler who ships merchandise to consumers and organizations, these indications are critical to your overall business plan. We will continue to brings news and updates about topics affecting the shipping and supply chain industry to keep our customers informed of developments which may directly or indirectly impact your company costs and processes.
Supply Chain Shipping Rates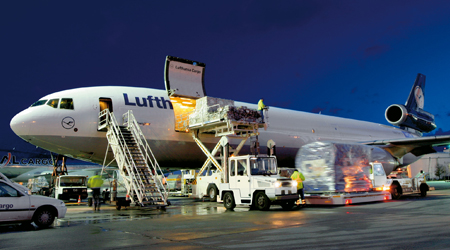 At ETC International, our professional shipping network has been serving companies in need of commercial and industrial shipping, both domestic and international, since 1984. With nearly 30 years of experience in supply chain management and shipping protocols, we provide valuable information to our commercial clients to help them make the most of their shipping dollars.
We are happy to start by providing a no-cost, hassle-free air and ocean Shipping rate quote on merchandise shipping for manufacturers, retailers and wholesalers. From there, we can discuss additional considerations of the shipping process, to keep your business fully informed with the most up-to-date information and recommendations.
Click the button below to obtain your no-cost shipping rate quote: