In his 2010 State-of-the-Union address, President Obama set a target date for doubling of U.S. exports at the year 2015. This was a reasonable projection based on the strong start achieved in the 2010-2011 time period.
But because export growth to major overseas markets has slowed dramatically from 2012 to date, the U.S. won't be able to reach the goal of doubling its exports, (to $3.15 trillion) until the year 2032, some 17 years after the Administrations original target date, according to Drewry Maritime Research's Container Insight Weekly.
U.S. Exports in Decline

The decline in export growth raises the question as to what obligation non-U.S. ocean carriers have to meet the needs of U.S. exporters, Drewry said. There are currently no major domestic shipping lines for U.S.-based manufacturers to rely upon.
Here's a timeline of U.S. export activity in recent years:
2010: U.S. exports of all goods and services increased by 17%.
2011: U.S. export rates dropped to 14.5%.
2012: U.S. export rates dropped even more, to 4.6%
2013 to date: U.S. export rates slow even further to a mere 1.9%
The major inhibitor to U.S. export growth is the decline of exports to the ailing European Union. U.S. exports to the 27 EU member countries fell steadily in the first 5 months of 2013:
Exports to the U.K., the 5-largest U.S. market, plummeted 18.2%
Exports to Germany, the 6-largest market, dropped to 4.8%
Exports to Japan, the United States' 4-largest overseas market, fell 7.3%
The U.S. is not the only country experience a slowdown in exports. According to Chinese Customs, Chinese exports fell 3.1% year-over-year in June 2013.
But despite its general image as the world's great consumer of other countries' products, the U.S. overtook Germany in 2010 as the world's 2nd-largest exporter (behind China), according to the World Trade Organization. U.S. exports to China, the nation's 3rd-largest market, grew 3.4% in the first 5 months of 2013.
From 2009 to 2012, exports of U.S. goods grew by 46%, with the largest increases coming from the automotive (79%) and industrial supplies (69%) sectors. During this time, the fastest-growing markets for U.S. goods were Brazil and Mexico, both up 68%, and China (now America's 3rd-largest market after Canada and Mexico) increased by 59%. In contrast, U.S. export growth to regions in Europe floundered at below 20%.
The National Export Initiative, (the agency tasked with facilitating Obama's target), was created to assist the small and mid-sized enterprises that make up the majority of all U.S. exporters by offering advocacy, improving access to credit and upholding international trade laws.
The Census Bureau reports that the number of U.S. companies exporting goods in 2011 reached a new record of 302,260, (an increase of 9% since 2009), which indicates that the Initiative is having some favorable impact.
But while the overall trend for U.S. export sales is fairly strong and indicates that Obama's export initiative has facilitated some additional growth, Drewry said U.S. export growth of 46% from 2009 to 2012 was only on par with the global trend, and was way below that of China, which at the same time boosted its exports by 70.5%.
How these numbers will impact the interests of U.S. manufacturers who rely on exports for their business' remains to be seen. We invite domestic exporters to share your predictions and feedback on this topic.
Shipping Exports and Imports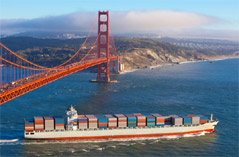 At ETC International, our overseas shipping container network has been serving companies in need of commercial and industrial cargo imports since 1984. With nearly 30 years experience in overseas import and export container shipping, we have an expert understanding of all the ins-and-outs of commercial ocean vessel transport. As a result, we are able to provide invaluable information to our commercial clients to help them make the most of their shipping dollars. We provide all the details a company needs to import and export consumer goods and industrial distributions.
We are happy to start by providing a no-cost, hassle-free rate quote on overseas shipping container imports and exports for manufacturers, retailers and wholesalers. From there, we can discuss additional considerations of the overseas shipping process, so your business can reliably ship goods to paying customers or receive goods from overseas container importers.
Get your convenient online rate quote right here: