On the news front with JOC, ETC International Freight System brings you the shippers recent information regarding the expectable from the ILWU leadership.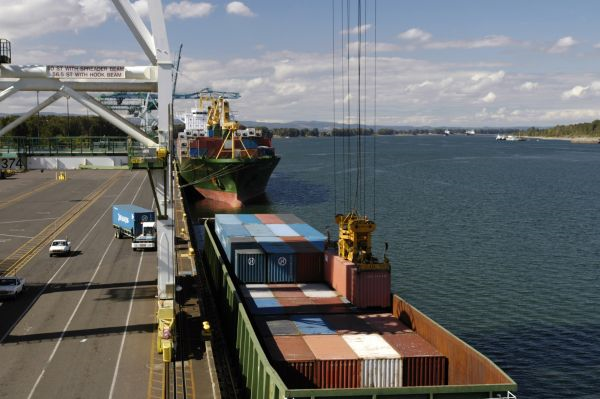 NLRB Judge: International Longshore & Warehouse Union  (ILWU) Engaged in Illegal Slowdowns at Portland
Longshoremen engaged in illegal work slowdowns at the Port of Portland from September 2012 to June 2013 as they were contesting jurisdiction for jobs handling refrigerated containers, a National Labor Relations Board administrative law judge ruled at the weekend.
If Judge Jeffrey D. Wedekind's decision is upheld by the NLRB board, the International Longshore and Warehouse Union international office, and ILWU Local 8 in Portland, must cease encouraging go-slow work practices at the port that continue to this day, or risk contempt
sanctions, Wedekind stated.
Plugging, unplugging and monitoring refrigerated containers in Portland was a jurisdictional issue between the ILWU and the International Brotherhood of Electrical Workers. While jurisdiction is one of the key issues involved in the ILWU coastwide contract negotiations now
underway in San Francisco, the reefer issue in Portland has been put to rest, at least for now. Oregon Governor John Kitzhaber in December brokered a deal that assigned the two jobs at stake to the ILWU.
The decision by Judge Wedekind is unrelated to the coastwide contract negotiations.
Although the order covers the nine-month period beginning in September 2012, port executives charge that the hard-timing by longshoremen have continued almost non-stop since then because the ILWU is attempting to get terminal operator ICTSI to leave Portland.
Ongoing measurement of crane productivity at Terminal 6, Portland's only container terminal, shows net container moves per crane per hour remain about 20, compared with historical
productivity of more than 27 moves per hour before the slowdowns began in 2012.
The ILWU has charged all along that the reduced productivity results from insufficient cargo-handling equipment, or equipment that is poorly maintained and is lacking parts for quick repairs. The union charges that changing the cautious cargo-handling procedures would create
a safety risk for its members.
In a statement over the weekend, the ILWU said Wedekind's proposed order "is in conflict with industry safety rules and enables ICTSI's continued disregard for U.S. industry safety standards."
This latest development in a dispute that pits the ILWU against ICTSI and the port authority comes at a time when Portland is doing everything it can to keep Hanjin Shipping Co., which accounts for more than two-thirds of the port's container volume, from leaving Portland.
Hanjin warned last year it would leave Portland because of poor productivity at
Terminal 6.
Over the past two years the port has maintained an incentive program to keep Hanjin and its other container lines in Portland. Executive Director Bill Wyatt said in a recent interview that if the port loses ICTSI, Terminal 6 will be repurposed, effectively ending the port's
container business.
Wedekind stated there is "ample evidence" to show that the ILWU is engaged in illegal work slowdowns in the use of container cranes and yard tractors, sometimes referred to at West Coast ports as "bomb carts."
Portland's
container volume
Wedekind also charged that the intent of the ILWU is to encourage both ICTSI and the carriers it serves to leave the port. After the alleged slowdowns began in 2012, the ILWU was angered when ICTSI installed video cameras in the container yard, stepped up supervision of
work practices, enforced work rules more strictly, filed contractual complaints against individual longshoremen and cut dockworker pay in 15-minute increments when the longshoremen showed up late for their jobs.
The Port of Portland for decades was an operating port before it contracted with ICTSI in 2010 to operate Terminal 6. Wyatt said during those years when the port authority ran container operations, work practices became inefficient and the port was losing millions of dollars.
After it took over, ICTSI began to clamp down on inefficient work practices. Now the ILWU wants ICTSI to leave Portland, thinking that the port authority will operate Terminal 6 once again, Wyatt said.
The ILWU adamantly denied those assertions. "We never once said we want ICTSI to leave," Leal Sundet, ILWU coast committeeman, said in a recent interview.
However, the port has traced the drop in crane productivity to mid-2012 and the jurisdictional dispute over the handling of reefer containers. "Costs increase when it takes more time to
handle the same volumes," said port spokesman Josh Thomas. He noted that the
governor of Oregon has ordered an independent review of terminal equipment, maintenance and staffing to ascertain the root causes of lowered productivity. Poor productivity is believed to be contributing to the decline in container volume in Portland. Container volume
dropped to 178,451 20-foot container units in 2013 from 198,179 in 2011, according to port statistics.
—————-
Freight Terms / Glossary 
Shipper: A person or a company sending freight (theoriginator
Consignee: A person ora company receiving the freight (the receiver)
Carrier: A transportation provider (truckers, railroad, airline, steam line)
Freight bill of lading: A legal shipping document between a shipper and a carrier for the transportation of freight (reflect all parties involved and shipping terms of sales)
Free on Board (FOB): ex-factory charges up to the origin port / airport
are for the shipper's account. Consignees are responsible once delivered to the port / airport of origin all the way to their site.
Cost of freight (C & F) or Cost of Freight + Insurance (CIF): Freight
charges payable by shipper & up to the destination port / airport only. (Always refer to ETC International Freight system disclosure / information sheet)
Loss or damage cargo: While in transit in a carrier's possession will fall
under the terms & conditions of the carriers' liability coverage, as shown on their terms & conditions. If am insurance coverage is purchased through ETC International Freight System & a claim is filed timely with the carriers with supporting documents, the insurer will handle the insurance refund.
Common Carrier: Transportation providers
Freight forwarder: A booking agent on behalf of the shippers handles the export declaration to the USA Customs and other logistical freight services
Customhouse broker: A clearing house through Customs for importers
Non Vessel Operating Common Carrier: Wholesaler of space. Buy from carriers'yearly space in bulk.
3PL: A 3rd party outsourced logistic company (warehousing & distribution)
Interline Shipment: When more than one carrier is used during
transportation to move a container from the destination port to a door location (IE# Hong Kong to Chicago via Long Beach)
Door to Door: Transportation services from the origin / destination curb sides (duty paid or unpaid to be defined). The originator of the request (shipper or the consignee) is responsible to pay all charges. (Always refer to ETC International Freight system disclosure / information sheet)
Consolidation services: NVOCC re-group shipments into a warehouse from various shippers, load a full container load, ship to a destination port to their agent known as the break-bulk agent that will segregate the each shipment readying it for its final destination (refer to your shipping terms)
Terminal / Deport: Where cargo is shipped or picked-up from.
Cross-dock: A terminal receiving (inbound), storing & exporting
(outbound)
Full Truck Load (FTL): using the whole trailer (53')
Less Than A Container Load (LTL): Consolidating a shipment with others into a truck.
Full container Load (FCL): exclusive use of 1×20' or 1×40' ocean
containers
Less Than a Container Load (LCL): Consolidated shipments into a full
container load Intermodal: Ocean containers transferred onto a truck chassis or railroad for final or depot delivery
Reefer: Refrigerated ocean container
Drayage: Local trucking
Line-haul: Trucking from depot to airlines warehouses
Long-haul: Long distance from terminal to terminal
Detention / Demurrage: Assessed by the carriers to the shipper / consignee for keeping a shipment longer than the authorized time.
Diversion / Re-consignment: Change of consignee name on the bill of lading while the freight is in transit (cost associated with it)
Bulk Cargo: vehicles, tank, grain moved by bulk-ship types
Break-bulk cargo: Each piece is handled by the terminal handler
(stevedore)
Pallet or Skid: a 48" x 42" heat treated (HT stamped for export) wooden platform on studs
Dunnage: Materials inside a container used to secure (IE# bracing &
blocking a vehicle)
Stock-keeping unit (SKU): A line-item of inventory that is a different
type or size of good. Freight weight measures: Short ton (American) 2000 lbs. Long ton (English) 2240 lbs. Metric ton (1000 kg. 2.2046 lbs.
20' ocean container unit (TEU) Standard 20' container: Measuring capacity for a vessel.
40' ocean container (FEU):Standard or High Cube container: Measuring
capacity for a vessel
Slot: Location of a container on a ship
Liner shipping: regular sailing schedules between specified ports
Tramp shipping: irregular sailing schedules (IE# Bulk ship)
Ocean conference: cartel of vessels sharing trade points with set rates
Alliance: airlines or steam lines coordinating each other' s schedules and selling capacity
Container leasing: supplied by the carriers to shippers for the duration
of the voyage
Lo-Lo: lift on & lift off for conventional container cargo ships. Cranes are used on the quay to load /unload.
Ro-Ro: roll on, roll off. A method by which the cargo is wheeled on & off a Ro-Ro ship
More terms are available, some more obscure. For a quote please contact us at www.etcinternational.com or email us at Sales@etcinternational.com.
For a consultation, please make an appointment by calling 1-800-383-3157 begin_of_the_skype_highlighting 
1-800-383-3157 FREE  end_of_the_skype_highlighting. Our VIP Sales is Mr. Dimitri Malinbaum